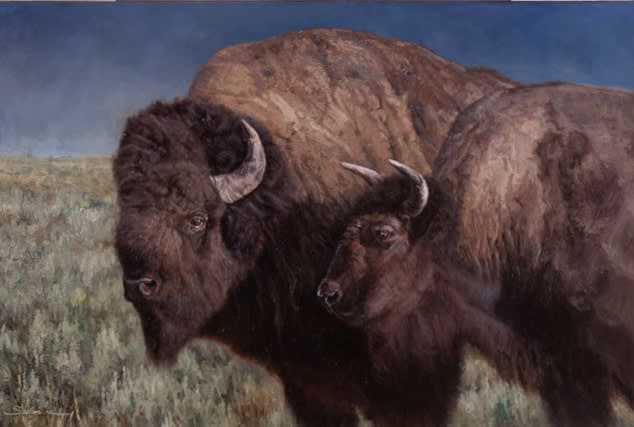 Thank you to everyone that came to Ryan Skidmore's showing on Friday! It was a wonderful evening.
A passion for wild creatures and the places they inhabit is reflected in the paintings of Ryan Skidmore. Whether it is wildlife, sporting scenes or pure landscape, Ryan tries to create a connection between himself, the viewer and the things he loves. Using a painterly style, he concentrates more on the effects of light and the essence of a scene than superfluous detail.
In 1998, Ryan received a Bachelor of Fine Arts from Utah State University where he studied under Glen Edwards, to whom he still credits much of his success as an artist. Previously, he studied at Weber State University in Ogden, Utah where he earned an Associate of Arts degree, and also at Snow College in Ephraim, Utah. His education continues today with trips to museums and galleries around the country to study from the masters, both living and deceased. Ryan cites numerous artists as influential, but Frank Tenney Johnson and Carl Rungius are always at the top of this list.
Ryan has participated in many shows including the Southeastern Wildlife Expo in Charleston, South Carolina, the C.M. Russell art auction in Great Falls, Montana and NatureWorks in Tulsa, Oklahoma. Ryan was a top 100 finalist at the 2004 and 2005 Arts for the Parks competition in Jackson, Wyoming, where he received the 2004 wildlife award of merit and the Grand Canyon purchase award as well as the 2005 Stephen L. Aschenbrenner award. He was honored to have a painting included in the 2002 Artists for a New Century show in Bennington, Vermont. Ryan's work has been featured in several leading art magazines including Wildlife Art Magazine, Southwest Art and Art of the West.
First hand knowledge is very important to Ryan's work. Frequent excursions in the field provide him with studies, photographs, specimens and memories, all of which become the basis for his paintings. Yellowstone, the Tetons and the Canadian Rockies are favorite destinations, as well as the red rock and desert country of the southwest.
Ryan currently resides in Morgan, Utah with his wife, daughter and two sons who are also developing a love of art and wild places. "We are excited about this time in our lives and feel extremely blessed to do what we do! I hope through my art, I am able to convey the importance of preserving our wild heritage."